NBA: Somebody Forgot to Turn on the Heat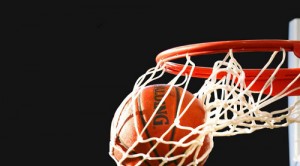 The NBA season is a little over a week old and we can already see who can be in and who can be out. Although some teams are obvious locks to go places, others have surprised us with their savvy play over the first few games of the season.
I never would have thought that Emeka Okafor could look good in the NBA. I never would have thought that Joe Johnson would actually step up.
I never would have thought that Eddie House would do an o-for on 3-pointers. (Then again, I never would have thought LeBron would be lazy enough to run to Miami and hang on D-Wade's cape.) Oh, did I say that out loud? We've got some interesting happenings hitting the NBA and I think they're here to stay.
The Hornets Stop the Heat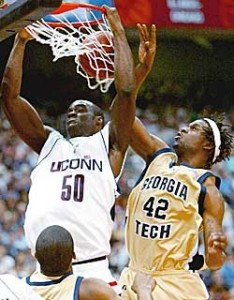 Two things happened in this game that I think are interesting.
Emeka Okafor looked like an NBA player.
Eddie House couldn't hit the broad side of a barn.
Back in the day, Emeka Okafor was a draft bust. He was supposed to be the next great "big" when he came out of UCONN (and they had just crushed Georgia Tech in the national title game.) On a personal note, I tried to follow that game and it didn't work. UCONN was too good.
He just sat listless in the league. Last night he played 35 minutes and had 26 points. I'm blaming this on Chris Paul. CP3, how dare you make a bustalicious guy look good just because you're the Peyton Manning of the NBA? Damn you!
Eddie House, on the other hand, didn't make a single 3-point attempt last night, and I know why. He's running around like a crazy person unchecked. The Heat don't know how to handle him and he's just doing his own thing. At least when he was in Boston there were Pierce, Allen, and Garnett to tell him to calm down and do things the right way.
If the Heat just leave House on the perimeter he'll dash their hopes a couple times with bad looks. Then, Wade or LeBron will have to step in and fill that "dagger shooting" role and it won't work. Sure, they could turn to James Jones, but he only made two of six attempts last night. That's not much better.
Bottom line, the Hornets looked great, and the Heat had another little facet of their game exposed. Three superstars plus garbage does not equal contender.
The Hawks Are Unbeaten Too!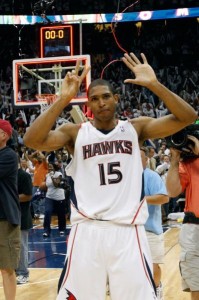 The Hawks gave Al Horford a five-year, $60 million extension, and combining him with Joe Johnson is actually working. Joe Johnson has already stepped up this season and made a big shot.
In fact, Joe Johnson stepped up for the first time in his life and made a big shot this season. Maybe that monster contract was what he needed to get into "actual superstar mode."
Last year the Hawks started the season with a nice unbeaten streak only to lose a few games in a row and fall back into the four-seed in the east. Well, that might not happen this year.
If the Heat, Hawks and Magic are all in the same division that means they're going to be pounding each other all season. The Magic are trying to keep expectations high. The Heat are trying to not screw up, and the Hawks are trying to improve for a sixth season in a row.
Something will have to give, but not this early in the season. I can see this division coming down to the last couple weeks of the season. Boston will be able to cruise atop the east while these three teams bloody each other in a three-way cage match.
Who will come out on top? I don't know, but I'm not counting out the Hawks. Don't count out Joe Johnson and Al Horford. They may have stumbled on something.
There's Something About Boston and Chicago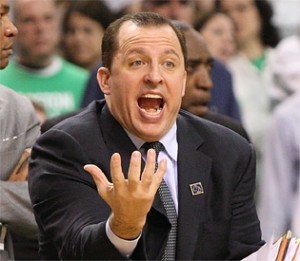 It took Boston overtime last night to beat the Bulls, and that begs the question. Are the Bulls going to break through?
Tom Thibodeau is the new coach of the Bulls and they're already testing the Celtics — before the playoffs. Part of that might be that Thibodeau was an assistant in Boston, but this Bulls team is intriguing.When they get Carlos Boozer back, how dangerous will they be?
They'll be carrying Derrick Rose (ball handler), Carlos Boozer (inside scorer), and Joakim Noah (crazy lunatic who scares people). If that isn't a winning combination I don't know what is.
I don't think any of those guys has an ego big enough to make him do stupid things. I don't think any one of them cares who scores. I don't think any one of them cares who make the big defensive play. They just want to win.
Now they have a coach who is a winner with a ring to prove it. How long before Thibodeau pushes all the right buttons and the Bulls stump the Celtics in the playoffs? Maybe it's coming sooner than we think.
An Early Guess
If I had to guess the Eastern Conference (because the west is obvious) I'd do something like this:
Boston
Orlando
Atlanta
Miami
Chicago
Who cares
Who cares
Who cares
Boston crushes a crap team in the first round. Then they get the upset winner of the 4/5 matchup in Chicago. Yes, I just said the Bulls would upset the Heat in the first round of the playoffs.
Listen, the Bulls couldn't get one over on Boston because Boston is a cohesive unit. The Heat are a bunch of guys standing on a basketball court playing basketball. Big difference!
Orlando beats Atlanta in the second round again, and now we have to wonder if the Bulls are a team of destiny or if they just got the right matchup in the first round. Could the Bulls beat the Celtics in the playoffs this year?
As of right now, I think they can. Granted, my scenario has to work itself out, but if you had a third chance to bet on the Bulls against Boston in a seven-game series would you? I know I would.
Additional Reading on SteroidsLive: