NBA Opening Week 2010: The Games You Should Watch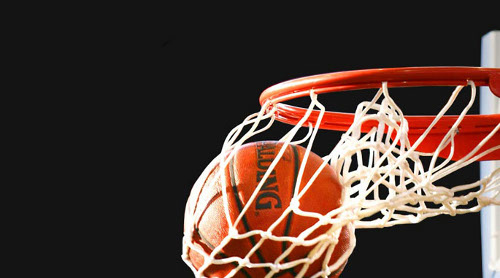 Even though Boston and Miami open Tuesday night we still have a ton of basketball to cover. The NBA's opening week is not always about big match-ups and crazy games. In fact, sometimes the games are kind of boring. We don't know how the "Miami Thrice" will gel because Wade has been out with an injury. Boston is old and they won't hit their stride until the playoffs.
However, there are other intriguing games later in the week that may point to how teams will fair this season. It's unfair to judge any team solely on their first week of play, but we can see if these teams are going somewhere or not. We all know that teams have different philosophies, but some of them still have to show us something. You can't be the "new kid on the block" and try to play it like you've been there for a decade.
That's why some games are important, and other games that seem important really aren't. I've picked three pivotal games that will show us plenty and leave us breathless (I hope).
Chicago @ Oklahoma City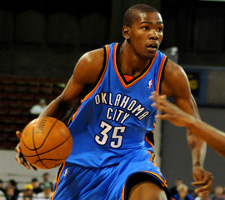 Chicago may be without Carlos Boozer, but they still have Joakim Noah and Derrick Rose. I know that Rose and Kevin Durant don't play the same position, but this is a battle of wills. Can the point guard of one team (the Bulls) overpower the will of the small forward of the other (OKC)? That's the question. We can talk about role players all day, but if Durant is an early MVP favorite he has to show up immediately.
When you're new you can't say, "We'll turn it on in the playoffs." Durant has to win 60 games and THEN go on a tear in the playoffs. He can't be afforded the luxury of taking a few games off.
The Bulls have a new coach and a new look, but they still have to contend in a very deep eastern conference where they are not even close to being considered a contender. In fact, the Bulls will be an afterthought to many. They can change that with a big win over Kevin Durant and the Thunder. Durant needs the win, but if the Bulls take it from him they'll look like giant-killers.
If OKC comes out and whoops the Bulls well know they're ready, they're for real, and they plan on doing that all year.
Orlando @ Miami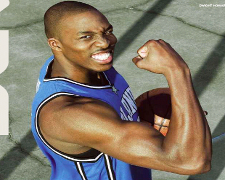 The "battle for Florida" is one of many times we'll see the Heat and Magic tangle, but this first game is most important.
The Magic, I'm sure, want to establish their territory and remind the Heat who's owned the Southeastern Division for the past few years. Dwight Howard probably wants to remind the Heat who owns the boards, and Jameer Nelson will want to show the Heat that top-flite point guards are important.
You see, if the Magic give the Heat an inch the Heat may take the whole division. The team that wins this game gets bragging rights the rest of the season. Every time they play the winner can say, "Remember how we beat your ass at the beginning of the season?" That's powerful.
What do I think's going to happen? The Heat will have a hard time putting it together. They'll still be in a learning process trying to figure out how to split a basketball three ways.
The Magic will slam the boards and remind anyone who comes anywhere near the basket that that's not a good idea. In fact, I can see Dwight Howard throwing down a vicious technical foul on Wade or LeBron. That dominance has to be established early. Everyone wrote off the Magic as soon as LeBron landed in Miami, but the Magic are the reigning champion of that division until someone dethrones them.
That dethroning either starts Friday night, or the Heat are back to the drawing board with Orlando.
Utah @ Oklahoma City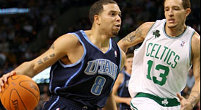 OKC again! This time Utah comes to town with Deron Williams. I know that the Jazz let Carlos Boozer go, but Deron Williams was the best player on that team anyways. It, again, is a battle of wills. Deron Williams v. Kevin Durant. Can Williams will his team to a victory or can Durant will the Thunder to win?
I think the most stark difference between this game and the Thunder's game with the Bulls is guard play. Derrick Rose scores a ton of points on his own. Deron Williams hands the ball out the every good shooter in the league in Utah. If he can get the Jazz to beat OKC on the outside it'll be a long night for Durant.
Again, Durant needs the win really badly. We know he can play. We know he's the man. We know he can do big things, but he's got to crush people this season to prove all of those theories true. He can't wake up in the middle of the season and start going off – he'll get crucified by the media (me included) if he does. There's no rest for the weary and Durant could be very weary on Halloween against Utah.
Can Kevin Durant tackle everyone's favorite lottery picks? We'll just have to wait and see.
Not Necessary
Lakers @ Phoenix – Phoenix and LA are going to the playoffs. We all know that. These teams are both so old and experienced that playing an early season game means almost nothing. They won't really care until they get to the playoffs and it's a best of seven situation.
Houston @ Lakers – Houston's still smarting from their trade, essentially, of Ron Artest for Trevor Ariza. The Lakers aren't really that concerned with anybody until we get closer to the playoffs and they have to rest Andrew Bynum's injury of the month.
Any game Boston plays for two months – The Celtics will look old as dirt for about two months and then we'll see them start to come out of their shell. One last run to the finals is what they have in them and I don't think they'll want to waste any energy.
At the end of the day it comes down to teams being smart and knowing their place. The Heat, Magic, and Thunder can't afford to do anything but shine. The Lakers and Celtics can wait til the last minute to pull it together. And we know how that turned out last year!
Additional Reading on SteroidsLive: