NBA Opening Tip: Replace Kobe? Replace Garnett?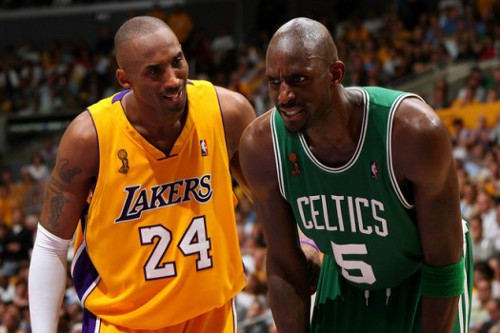 I've read a few articles in cyberspace lately that suggest the Lakers won't be able to replace Kobe Bryant.  Really?  This is all you have to talk about?
No great team walks around thinking they can just magically replace a star athlete.  When that star athlete is a top-five all-time player then the task would just become harder.
"Hey kid, we're drafting you as long as you morph into Kobe, ok?"  Does anyone every really receive that call on draft day, and is a GM actually stupid enough to make it? I don't think so.
There's more than one way to stumble on a superstar, but you don't just replace the people you currently have.  You work the draft, you make trades, you develop players, and you pray.
The Rockets and Aaron Brooks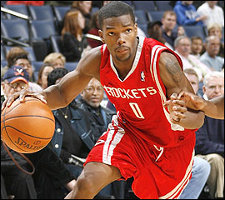 The Houston Rockets went to a lot of trouble to pick up Yao Ming.  They screwed around with the Chinese government.  They paid him a ton of money.  They made him the face of everything.
The Rockets made a move to pick up Tracy McGrady and prayed he could break his playoff drought.  He couldn't.  However, they were still working the draft, making trades, and trying to do something, anything.
A couple years ago they took point guard Aaron Brooks out of Oregon.  He's listed at six foot and 161 pounds (which means he's about 5'10″ and 150).  What in the world is he going to do? Take over the team.
He runs the court like a general and the Rockets, under his leadership, have had little need for Yao Ming orTracy McGrady.  He even helped take the Lakers seven games in the 2009 playoffs.  Ever seen Tracy McGrady do that?
The bottom line is this:  He may be small and he may have been obscure but Aaron Brooks came out of nowhere.  No he's "the man" in Houston. Look at Kobe.  He was drafted by the Hornets and his rights were traded to the Lakers.  Is that a transaction worthy of a top-five all-time player?  No. But no one knew that would be the case until he balled out.  Neither Aaron Brooks nor Kobe Bryant replaced anybody — they stepped up.
Steve Young, Joe Montana, and the 49ers
When Joe Montana was cementing his legacy as the greatest quarterback to ever lace them up — winning four Super Bowls and all — he had Steve Young for a back-up.
Young was a major prospect out of BYU and he languished in Tampa before going to San Fran.  However, when you're as big as he was and become a back-up, even to Joe Montana, it's like your career is over.  (See Matt Leinart in Houston.)
However, when Joe Montana moved on Steve Young was handed the ball.  The 49ers had no idea what they were getting.  The only thing they knew was that Young had worked with Montana for years.  They could only hope he had learned something.
Four years later he won the Super Bowl.  In the interim he did everything he could to give the Cowboys a hard time as they won their three championships.  The 49ers were consistently the only strong team in the NFC besides Dallas.
He won six passing titles, retired with the highest passer rating ever, and rushed for 43 touchdowns in his career.  How could the 49ers have known that a guy listed at 6'2″ — who is much shorter — could be a hall of famer?  They didn't.  They just did their jobs.
On a personal note.  This is why I'm done caring about the 49ers until the Yorkes sell the team.  They could never have worked hard enough to stumble on someone like Steve Young.  Or Jerry Rice, or Roger Craig, or, you get the idea.
Boston, The Big Three, and Rondo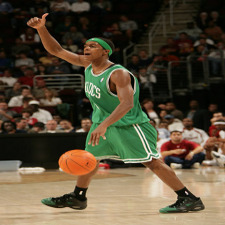 Boston is a perfect of the "not replacing a guy" theory.  They tanked a whole season, spent a lot of money, and destroyed their immediate credibility to get Ray Allen, Kevin Garnett, and Paul Pierce together.
At least it resulted in a title in 2008, but the Celtics couldn't have known how long this would last.  That's why that championship in 2008 is so meaningful and why their loss in the 2010 finals hurts so bad. They know their window is closing, and fast.
So, in the midst of all this, they had this skinny point guard from Kentucky named Rajon Rondo who was just kind of sitting there.  I mean, his last name is a musical style that repeats the main theme after different passages of development, so would Rondo just repeat sitting on the bench?
Nope.
In 2009 and 2010 Rondo stepped up and became the unofficial leader of the Celtics.  I've said it before and I'll say it again.  The Big Three hates Rondo.  He started to take over because he was just that good.
Did the Celtics know that Rondo was going to be a centerpiece around which they could build a new team after the Big Three were gone?  No, they had no idea.  However, they get credit for busting their ass enough to have a chance at lucking out with Rondo.
You don't replace Garnett, or Allen, or Pierce, but you do kill yourself looking for people who can step up.  Rondo stepped up, and he extended the Big Three's window in the process.
And Back to the Kobe, LeBron, D-Wade Debate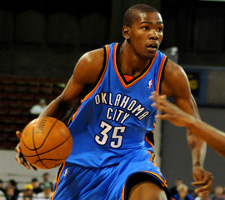 Who's the best player in the NBA?  Probably Kobe' til he retires.  He's got all the rings.  However, D-Wade and LeBron were major draft picks who were supposed to turn things around for their teams.
In Miami, D-Wade was able to win a title because he had Shaq behind him and a good cast of supporting personnel.  Pat Riley gets credit for busting it and putting a good team together.
LeBron couldn't do a thing in Cleveland because he was expected to do it all by himself.  The team didn't do any work to help him out, and they couldn't turn the league's best record into a ring.
This is where you can tell if teams are smart or not.  When things went south in Boston Paul Pierce stuck around.  He was the strong one.  He was the "hometown kid" who stayed true to Boston.  Is it any wonder he was the MVP of the 2008 finals?
When Kobe was scoring 81 points a night the Lakers put a team around him.  They made the greatest trade in the history of sports to get Pau Gasol. However, the hard-working teams like Boston and LA didn't get superstars who quit like LeBron did on the Cavs.  Why?
They knew that character mattered, that they were going to have to work for a championship, and they put the work in.  This is why the Cavs failed while the Lakers and Celtics have won a combined 33 NBA titles.
The Cavs were lazy, as are the Warriors, Kings, Hawks, Knicks, and Heat.  The Heat signed a quitter in LeBron and a faux-superstar in Bosh.  They think this will automatically generate championships.
Meanwhile, the Thunder drafted Kevin Durant, developed Russell Westbrook and Jeff Green, and never stopped working.  Does anyone realize Jeff Green came over in the trade that involved Kevin Garnett going to Boston?
Lazy players play for lazy teams — LeBron for Cleveland.  Tough players play for tough teams — Kobe/Pierce/Garnett for LA/Boston.  That only begs one question: Does LeBron make Miami lazy or does D-Wade make them strong?  Only time will tell, but my money's on lazy.
Additional Reading on SteroidsLive: