Kirk Radomski 2005 Affidavit Excerpts
Kirk Radomski reportedly testified in front of the BALCO grand jury the day after his guilty plea for felony charges of distributing steroids and money laundering was filed April 26. ESPN, who has published the redacted version of the affidavit, is reporting that prosecutors had requested that the affidavit in support of a search warrant be sealed until Radomski had testified before the grand jury. The court records were subsequently unsealed after Radomski pleaded guilty April 25th and testified on the 26th.
From the request to seal Radomski's affidavit:
"The government intends to call the defendant before the grand jury on April 26, 2007. If the information is publicly available prior to April 26, 2007, the ongoing investigation could be jeopardized by efforts to intimidate or otherwise influence the defendant."
The affidavit is in support of a search warrant from Radomski's home and was filed by Jeff Novitzky, the lead investigator in the BALCO case. There are large portions that contain redacted information which clearly are the names of Major League Baseball players and those associated with MLB, but no names of Major League Baseball players have yet been leaked.
Baseball Related Highlights From Radomski Affidavit
"In February of 2005, I received information from the FBI of an FBI confidential source, hereinafter "the source," that had information of an individual in New York distfibuting anabolic steroids and other athletic performance-enhancing drugs to professional baseball players, including specifically at least one Major League Baseball (hereinafter MLB) player who was publicly identified as being associated with Balco Laboratories."
"The source reported to agents that the source's MLB contact told him/hker in sum and substance that if a professional baseball player was currently using performance enhancing drugs, including human growth hormone (a drug which is illegal to distribute under federal law without a valid medical prescription under Title 21 U.S.C. Section 333(e)), then that player likely would be getting it from Kirk Radomski. The source reported that the MLB contact claimed during this meeting that Radomski is a major drug source in professional baseball, who took over after the Balco Laboratories individuals were taken down."
"Radomski indicated to the source that if he/she thought Jose Canseco's steroid tell-all book was big, he could write a similar book that would be far more significant than Canseco's."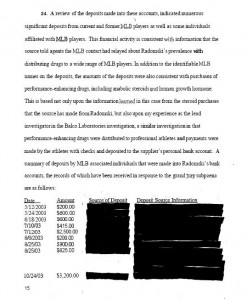 "A review of the deposits made into these accounts, indicated numerous significant deposits from current and former MLB players as well as some individuals affiliated with MLB players. This financial activity is consistent within formation that the source told agents the MLB contact had relayed about Radomski's prevalence with distributing drugs to a wide range of MLB players. In addition to the identifiable MLB names on the deposits, the amounts of the deposits were also consistent with purchases of performance-enhancing drugs, including anabolic steroids and human growth hormone… A summary of deposits by MLB associated individuals that were made into Radomski's bank accounts, the records of which have been received in response to the grand jury subpoena are as follows:"
There are then 23 redacted entries (pictured) in the list of checks from "current and former MLB players as well as some individuals affiliated with MLB players."
Related Articles on SteroidsLive: