Keeping It Real Is Going Wrong For The Steelers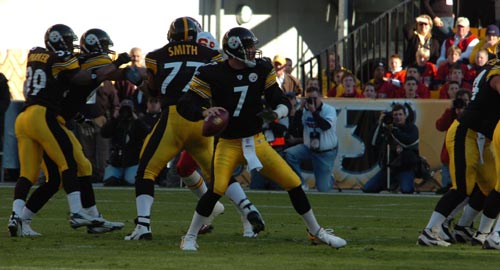 The Pittsburgh Steelers are going to be fined for the behavior of Santonio Holmes and Ben Roethlisberger.  They've already unloaded Holmes and now reports are surfacing that they have discussed trading Big Ben.
As much as we want to say that the Steelers are a "gold standard" for organizational leadership, they must have a line they cannot cross.  I believe they are dangerously close to that line.
They can make an example out of Big Ben and end up making an example out themselves.  I want to take you on a journey from a conversation with my Dad, to "Chappelle's Show", to the offices of the Pittsburgh Steelers.
Even if Big Ben isn't traded, it doesn't matter–keeping it real may have already gone wrong for the Steelers and their 6-time Super Bowl Dynasty.  Art Rooney, I hope you're reading.
A Heart-to-Heart With Dad
I'm in the car the other day and I call my Dad to see where we're going for dinner.  Dad's 66 and these conversations inevitably lead to sports because… he's 66.
This time around we were discussing my opinion that the Steelers will trade Ben Roethlisberger—their starting Quarterback.  My Dad's initial reaction was "No, son, they won't do that".
I retorted with my view that the Steelers don't mess around, that they are serious, and they are old school.  I think they need him, but I also think they can live without the headache.
I even asked my Dad if they could really get up there and say, "We support Big Ben even though he's a total idiot".
His response was very smart.  "Son, if they're that serious then they're crazy".  The conversation took a different turn, but I've been thinking about it since then.
If they cut Big Ben loose and they are left with Dennis Dixon and Charlie Batch, what do they do next?  I guess they could trade up in the draft, but that would be hard work.
In fact, the Steelers could set their franchise back 5-7 years because they'd have to retool the whole team—which is currently configured around Roethlisberger.
If the Steelers are so serious as to trade Big Ben—as some rumors have suggested—then they would be crazy to do so.  Plus, the team that trades for him would be even crazier.
I Don't Like Nobody Playin' With My Image!
On "Chappelle's Show" Dave Chappelle does a hilarious take on "keeping it real".  A girl calls a wrong number.  The wrong number is a guy.  The guy's girl picks up the phone.  She proceeds to freak out when another woman is on the other end.
She says, "I don't like nobody playin' on my phone!" She throws a brick through the girl's window and destroys her car.  The whole time the "wrong number girl" is saying, "It was a w-r-o-n-g n-u-m-b-e-r!"
I feel like we're going down that same path.  Steelers' fans and the city of Pittsburgh will be in shock if the Rooneys get rid of Big Ben.
Granted, he didn't just call a wrong number, but I think they'll be saying, "It was a w-r-o-n-g n-u-m-b-e-r!" The fans will take Big Ben's trade or release as "white flag" from the Rooneys.
If the Rooneys make a move, it will send a ripple effect through the league like we have not seen.  One team will be vilified, a crappy team will be out a Quarterback, and the Steelers will change the draft.
You Already Killed His Relationship With The Fans
Let's say your team trades for Big Ben and they give up a 1st Rounder–next year.  When you hold the press conference to introduce Big Ben—how do you do that?

"Ladies and Gentlemen, it's good to see all of you.  I'd like to cut right to the chase.  Without further ado, your new Quarterback—a complete freaking idiot".
Can any team honestly put their Owner or GM on the podium and allow them to introduce Roethlisberger as their new QB given some of the disgusting behavior he's shown?
Not only would the Steelers be drafting a QB, not only would a bad team be "out" the QB they wanted to draft, the entire league would take a step back from the team that traded for him.
Bottom line–Pittsburgh hates him now and nobody else will ever even like him.
The Ripple Effect
After every team in the league takes the proverbial "step back" from the acquiring half of a Big Ben trade, the league will never be the same.
From then on, every team in the league will be too afraid to take on a guy who has had run-ins with the law.  They won't want to be ostracized or invite the media circus that comes with that kind of player.
This means only one of two things can happen:
1.    Goodell's conduct policy worked and players will straighten up really quickly.  Even in college, they'll stop acting stupid.
Or
2.    Teams will stop asking questions.  They'll turn a blind-eye to every misdeed that comes their way because they don't want the scrutiny.
My Dad's right.  Keeping it real would go very wrong for the Steelers—and the NFL—if they went through with a trade on Big Ben.
The Steelers don't look to be moving up in the draft.  If they pass up this opportunity things will only get more difficult.  Imagine trying to trade for a pick next year.  Imagine trying to push him on a team that just had a good draft.
Big Ben is standing on the edge of a cliff, and the Steelers haven't pushed him off tonight.  Keeping him on the edge just  puts the Steelers–as a franchise–in more peril.
As bad as this will sound, Ben's either in with the Steelers or he's out altogether.  I'm guessing in.  It would be madness to do anything else, but now they look weak because they can't trade him.
Ben just made them look bad again.
Player Stats
Ben Roethlisberger
Steelers #7
Quarterback
Stats
2009
TDS
26
INT
12
YDS
4328
RTG
100.5
---
Player Facts
Born: March 2, 1982
Height: 6′ 5″
Ben Roethlisberger is the youngest starting Quarterback to date to have won a Super Bowl.
Roethlisberger holds the biggest contract in the history of the Pittsburgh Steelers.
---
"They" Said
Roethlisberger at Crossroads
Roethlisberg Practices and Hears Criticism from Goodell
Steelers Mum on Possibility of Trading Embattled QB Ben Roethlisberger
---
Upcoming Events
NFL Draft @ Radio City Music Hall
| | | |
| --- | --- | --- |
| Day 1 | April 22 | 7:30PM EST |
| Day 2 | April 23 | 6:30PM EST |
| Day 3 | April 24 | 10:00AM EST |
Will air on NFL Network and ESPN.
Find Out More on SteroidsLive