JaMarcus Russell Gets Second Chance With Redskins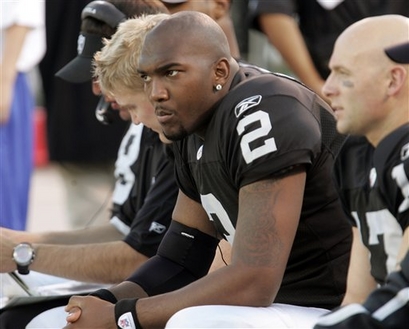 On Sunday Washington Redskins head coach Mike Shanahan benched starting quarterback Donovan McNabb at the end of the game in favor of back-up Rex Grossmen. On Tuesday ESPN reported that the Redskins brought in former Oakland Raiders QB JaMarcus Russell for a workout.
The head coach has given several reasons why he pulled McNabb from the game. Offensive coordinator Kyle Shanahan said McNabb was suffering from a hamstring injury and could be pulled from the game at any time.
"The cardiovascular endurance that it takes to run a two-minute, going all the way down with no timeouts, calling plays, it's just not easy. If I thought it was the best situation to do, then Donovan would have run the two-minute offense," said Mike Shanahan.
McNabb continues to say the right things about controversial decisions since being traded from the Philadelphia Eagles to the inter division rival Redskins. McNabb said it was a coaches' decision and he is ready to move on for preparation after the bye week.
They evaluated Russell along with several other players on Tuesday before they went on a five day break for the bye week. Russell is 7-18 as a starter in the NFL and it remains uncertain as to whether or not he will get a roster spot with the Redskins.
Related Articles on SteroidsLive: