Can't You Get Something Right Just Once!?!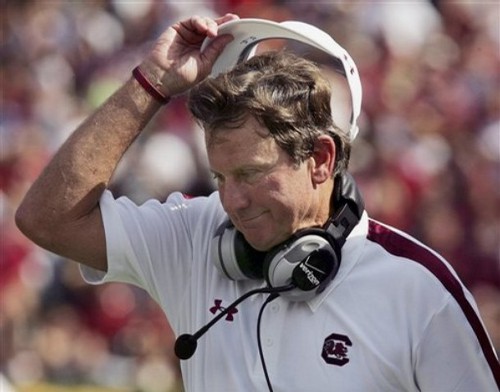 Argh! South Carolina beats Alabama last week and this week they can't even close out Kentucky? Are you kidding me!?!
This is what I'm talking about. Some teams just can't seem to get anything right. It never changes either. A team gets in a rut and they stay in it. The Royals. South Carolina. The Pirates. The Lions. Washington State. Just go down the list and you'll slap yourself in the forehead every time thinking, "Oh gosh, what a disaster they are!"
But, at the top of the list, is South Carolina. They beat Alabama and were set to make a run to the SEC title game. Florida lost the Mississippi State yesterday, and they opened the door pretty wide for South Carolina to come in there and kick their butts.
Nope.
South Carolina had to go and screw it up. It's ridiculous. How can you win a big game every year and squander it on a game you're supposed to win!? If you have even the slightest clue I love to know because I just don't get it.
These Guys Aren't Much Better
The Royals? Yeah, they've sucked since the mid-80s. But, you know what, they have Zach Greinke. He's an ace pitcher. A number one starter on almost every other team in baseball.
So, you'd figure they want to lock him up, give him a big contract, and build around him, right? Wrong!
The Royals are shopping Greinke to see what kind of trade value they can get for him. Heaven only knows what they want for him — a kingdom I would assume — but this is stupid.
Why do you trade the best player you've had in 25 years just because you're afraid you can't pay him? Find the money somewhere! You can go low-rent all over the place if you have a number one starter who never gives your opponents a chance at hitting the ball! Is it really that hard to understand? You don't trade your best player "just because you can't pay him".
The Pirates haven't done a thing since Sid Bream was safe in the NLCS in 1992. Yep, that's 1992. They fired their manager and will surely replace him without guy who will get fired in a couple years after posting a horrific record. Why?
Because the Pirates suck. They're a black hole in baseball. If someone traded me to the Pirates, or they drafted me, I'd seriously consider quitting or getting Archie Manning to tell Pittsburgh, "Thanks, but no thanks."
They have no idea how to run a baseball team up there. They dump good talent and replace it with guys who belong in the minors. That's how they run their team, and they never get anything right.
Oh, and the Lions. Matt Millen set them back about a decade just by simply showing up to work all those years. Not firing someone who's THAT bad is just bad business.
And Washington State? I don't get it. They had potential. They were in a weak Pac-10. Then Oregon, Oregon State, USC, Stanford, Arizona, and Arizona State (almost the entire conference) got good. Oops! Instead of stepping things up and hiring a big name head coach they just decided they'd hire a no-name and let the chips fall where they may.
Let's put it this way, if you asked your average sports fan to name all the teams in the Pac-10…they might forget Washington State. That's "screwing things up royally 101″ for you.
Can't any of you get something right, just for once? No? I should have known.
General Patton's Previous Vents: