Brett Favre's Possible Suspension: Ironic in so Many Ways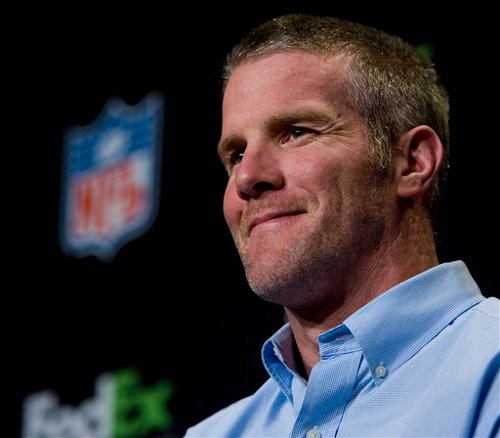 Brett Favre has been no stranger to grabbing headlines during his 20-year NFL career. However, the news that broke last week on Deadspin.com about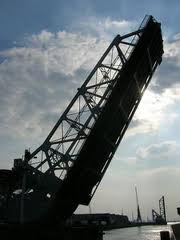 Favre's consecutive games streak is the most impressive individual streak in all of sports. In a sport were at least 10 players a weekend suffer concussions, torn ligaments, sprains, and a multitude of other injuries, Favre has managed to play in 312 straight games.
He has not gone without injuries, playing through a broken thumb, numerous knee and ankle problems, concussions, shoulder tears, bicep tears, and many undisclosed injuries the average fan will never know about.
NFL collisions have been compared to car accidents with the size and speed at which these players play the game. In a broadcast earlier this season the announcer said Favre has been sacked over 500 times in his NFL career – he has had to have been hit at least double that amount when getting rid of the ball or running for first downs.
I think we all knew that his amazing steak would end some time, but we always imagined him being carted off the field. Favre is in danger of missing his first game in 18 seasons and ironically enough it wouldn't be for a bodily injury, but for serious injury to his character.
Where Should We Rank This Suspension?
The most notable players this season coming back from off the field four-game suspensions are Santonio Holmes from the New York Jets and Ben Roethlisberger from the Pittsburgh Steelers.
Holmes served a four-game suspension for violating the league's substance abuse policy for the second time. I, for one, think that Holmes' use of marijuana isn't anything but a harmless act of stupidity that only hurts himself. This is in no way on the same level as what Favre is being accused of.
On the other hand you have Roethlisberger. When reports came out for the second time in one year that he allegedly raped a woman, he was suspended for four (possibly six) games depending on his actions and behavior following – chargers were never filed in either case. I have not read the entire report on the second allegation, but did read excerpts that lead me to believe that he got away with something due to his money and fame. To me this is much worse than anything Favre is being accused of.
This is the second bit of irony; Favre has made a career of putting himself in tough situations and finding a way to get out of them. If the findings don't show harassment of these women then Favre will likely escape his mistake and avoid suspension. If they do, he will be suspended.
The question is, for how long? I don't think that what Favre has done is on the level of Roethlisberger and is not worthy of a four-game suspension. I also said that what Holmes was suspended for wasn't really that bad, but he was a second time offender of the NFL's policy.
This presents another sticky situation in the Favre case. In May of 1996, Favre voluntarily checked himself into the league's substance abuse program for an addiction to Vicodin. Some people consider this Favre's first strike even though it was a self-imposed punishment.
If everything is proven to be true I feel like the suspension should be three games. Give him two for harassing women (depending on the level of harassment) and one for sending inappropriate photos of himself.
Jackson Is the Winner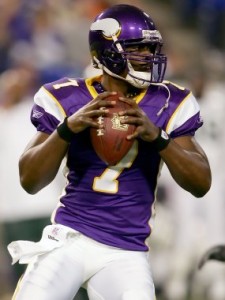 Since Favre came to the Vikings last season, the man he replaced, Tarvaris Jackson, has done and said nothing but the right things. Jackson has waited through two "will he or won't he join the Vikings" media circuses with the notion that he was the second choice.
With a suspension to Favre, irony could strike yet again in this situation. Jackson could get an audition for the starting job next season if in fact Favre actually makes this his last season in the NFL. For those of you who think this job is his regardless, you should not be so sure of that.
If they wanted to make Jackson the starter of this team, can you name a better time to give him the reins of a 12-4 team coming off a trip to the NFC Championship game? The Packers made that same transition with Aaron Rodgers and, depending on how you see things, it has been successful.
I am not advocating that the Vikings make Jackson the starter for the rest of the season. This is a Super Bowl team with Favre as opposed to a possible playoff team with Jackson. Jackson has waited patiently and prepared diligently for the opportunity to become the starter and may get the chance to put in a good word for himself for next season.
Final Thoughts
Some people are talking about what this does to Favre's legacy. True, intelligent sports fans won't take into account the waffling on retirement and acts of indiscretion off the field when remembering Favre as one of the greatest players to ever grace the gridiron.
As for the rumors and speculation on a possible suspension, if he did these things and harassed women then it is only fair that Favre is subjected to punishment for his behavior. The NFLs "Iron Man" and interception leader may have "Ironically" committed the biggest boner of his life.
Additional Reading on SteroidsLive: