BCS Disaster on the Horizon
Friday marks the kickoff of the Iron Bowl, Arizona/Oregon, and Boise State/Nevada. Saturday could be the heaviest hangover college football has seen in a long time. Each of these games possesses a large part of the BCS formula within its results. A loss (or even a nasty win) could spell doom for so many teams, and mean great fortune for others.
There are plenty of one-loss teams that stand to gain from "off" performances on Friday night. Boise State can't avoid a slip-up, Oregon needs to keep rolling, and Auburn can't stop now. How big is each game?
Arizona at Oregon
Arizona has to go up to Eugene and try to knock off the leader of the Pac-10. The number one team in America. Mike Stoops was given time at Arizona to resurrect a pathetic Wildcat football program, and now he's done it. Arizona is dangerous and they might give Oregon a hard time.
The unfortunate thing for Arizona is that Oregon can score about 30 points before you blink and then you'll be in an insurmountable hole. Nobody can come back from that. If Arizona scores first they'll hold the lead for a couple minutes before Oregon strikes. I just don't see how LaMichael James and the Oregon offense can be contained. I'm not looking for an upset here. This one is cut and dry, Oregon owns the Pac-10.
Boise State at Nevada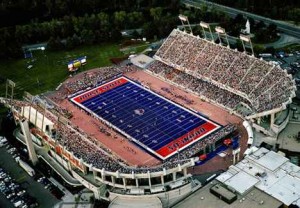 Nevada is ranked and this might be the game that Boise can point to and say, "See, we played another ranked team!" However, if Nevada is as feisty as everyone says they are the Broncos might have a hard time.
A hard time for Boise might be only winning 41-20. That's not a blowout. Everyone expects blowouts in that conference. 61-20 would be more appropriate in the voters' minds. If Boise "struggles" they'll probably lose enough stock in the BCS to stay below TCU. If they wax Nevada then that might be enough to push them above TCU. That would put Boise State in the third spot in the BCS standings.
Now you have TCU and Boise on the doorstep of the national title game. Let's say, by some miracle, Oregon loses. Now you have TCU/Boise in the title game. That means they can hope against all hope that Auburn loses to Alabama. I know, the Iron Bowl on a Friday. It's playing out perfectly.
The Iron Bowl (Auburn and Alabama)
With the Cam Newton story developing by the day we can only assume that it is a distraction of sorts for the Auburn Tigers. Whether Cam knew about the money or not (I don't think he did) it's got be weighing on his teammates because they're being asked questions constantly.
"Did Cam take money?" "Did Cam say anything about getting paid?" "Would you be upset if the university paid Cam Newton to sign?" No one wants to answer the endless onslaught of questions that pertain to a scandal – especially college kids.
That leaves us with a game. A two-loss Crimson Tide team that is out of the SEC title game and possibly out of the BCS. How do they get into the BCS? They beat Auburn. Can a wavering (yet veteran) Alabama team knock off the Tigers of Auburn? You bet they can!
This game was made for this season. Alabama is the defending national champion. They won't be able to defend their title in the BCS title game so the next best thing is keeping your arch-nemesis out of the game.
How delicious would it be for the Tide to beat Auburn, spoil Cam Newton's season, and send all of south Alabama into an extended depression the likes of which we haven't seen since Bo Jackson left for the pros? I think it would be fantastic to watch. I fully expect Nick Saban to pull out every stop, to have his team motivated, and to be ready whatever Auburn does.
A few weeks ago I would have picked Auburn, but now I have to go with the Tide. They're going to do a number on Auburn and the Tigers won't be able to do a thing about it.
Who Does That Leave?
It leaves us Boise or TCU in the title game, but it also leaves us with a new argument: Strength of Schedule.
The team (Boise or TCU) that catapults into the national title game will get in by the skin of their teeth. The one that gets left out will have to defend their weak schedule or fix it.
If neither of those teams gets in and a one-loss Stanford or LSU gets into the title game then we're going to have some of the most serious backlash we've ever seen in sports. America roots for the underdog and Boise/TCU are the underdogs.
If Boise or TCU has to sit at home and watch the title game as an undefeated they'll both have to answer the obvious call to switch conferences. It's too bad Chris Petersen and Gary Patterson are too nice for that.
One of them would have to go on TV and tell their conference, "We're over you. You screwed us with this pathetic competition, and we're gone." It's that simple. Someone has to step up and say the unpopular thing. "This isn't working for us."
Memo to the Mountain West and WAC: You don't have teams that are good enough for Boise State or TCU. You didn't find them. You've seen this train coming down the tunnel for years and you've done nothing about it.
Let these teams go in peace and find some real competition before we have street riots break out over the outcome of a computer formula. Please. We know you feel under-valued, but we don't care. You're mid-majors and that's the way it is. We aren't getting a playoff anytime soon so you'll just have to suffer.
On behalf of Boise State and TCU I say, "Sorry. It's not me, it's you. In time, you'll get over it."
Additional Reading on SteroidsLive: