Atlanta Braves Announce Fredi Gonzalez Will Replace Bobby Cox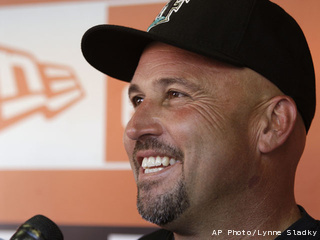 Monday night the Atlanta Braves were eliminated by the San Francisco Giants ending the 20-year run of Bobby Cox as Braves manager.
The Braves wasted little time announcing his successor. Less than 48-hours later, Fredi Gonzalez was at the helm. Cox had a farewell press conference on Wednesday and immediately following the Braves announced Gonzalez would be taking over.
Gonzalez was the Braves third-base coach from 2003-2006, he then left to take the job as manager of the Florida Marlins – leading them to a 276-279 record over 3 ½ seasons.
"This is perfect for us on so many levels," general manager Frank Wren said. "He's got a great personality. Players gravitate toward him. They like playing for him. It's important that guys like playing for you, because they'll usually play even better. We've seen him over the course of time. Managing at the major league level is different, but we saw what he did at Florida. He ran a good game."
Cox endorsed the hiring at the press conference saying the following. "Walter Alston was replaced by Tommy Lasorda. Tommy did a great job and they forgot all about Walter Alston. That is what's going to happen here."
Gonzalez said not to expect a lot of changes to the Braves, although they plan to hire a new hitting coach.
Related Articles on SteroidsLive: