Who Are the Top 10 MMA Heavyweight Fighters? – Part II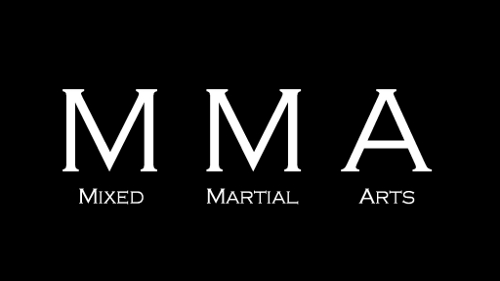 Mixed Martial Arts (MMA) is a full-combat sport combining elements of wrestling, boxing, and kickboxing to create a unique fighting experience. MMA also has bred an entire generation of fighters and who are ranked by the USA Today/SB Nation. The poll, each month, ranks the best MMA fighters, from lightweight to heavyweight, and we have been tracking the Top Ten as ranked at the end of July.
Last week, I highlighted the bottom half of the Top Ten, and this week I will reveal the final five, of the best of the best, and containing you will be hearing for the next several months to come and beyond. So, take a look, and decide for yourself who is #1.
5. Shane Carwin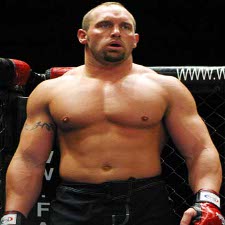 Shane Carwin is currently ranked #5 in the USA Today/SB Nation rankings. Carwin fights for UFC and has a 12-1 record. His first loss was on July 3 against Brock Lesnar, who defeated the scrappy fighter in the second round with a submission. The fight unified the UFC championship but, unfortunately, left Carwin out in the cold.
The 6' 4″ 285-pound Carwin, though, is a force to be reckoned with in UFC and will be back. His near flawless record was earned by great technical skills as a fighter who can beat his opponents with a heavy punch or a submission hold. His nickname, in fact, is "The Engineer" based on his skills as a technician in the octagon.
Of his twelve career wins, 7 were by TKO and 5 were by submission. The 35-year old fighter's last victory was against Frank Mir in March, who he KO'd, propelling him into his championship bout with Lesnar.
3-tie. Fabricio Werdum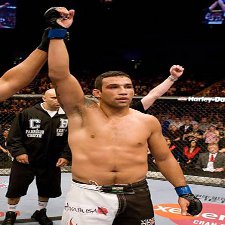 You can put Fabricio Werdum's name on this list with a bullet after his defeat of "the Emperor" Feder Emelianenko with a submission in the first round during a June 26th bout. The move he used to defeat the accomplished fighter was a triangle choke/arm bar submission hold.
Fabricio is an MMA fighter who favors submission holds rather than powerful punches to defeat an opponent. Of his fourteen career wins, 7 have been by submission and 3 by decision, with the rest by TKO or KO. Fabricio, like Feder, fights for Strikeforce and has been up and down in his career.
Clearly, the chiseled 6' 4" 242-pound Brazilian, nicknamed Via Cavalo, is "up" right now, vaulting up the list to a tie for third. Fabricio (14-4-1) has been on a roll as of late, winning his two bouts in 2009 against Mike Kyle in a submission and Antonio Silva in a decision as well as his first fight in 2010 against Feder. His next fight has yet to be determined but it has been rumored to be a rematch against Feder or a title bout against Alistair Overeem.
3-tie. Cain Velasquez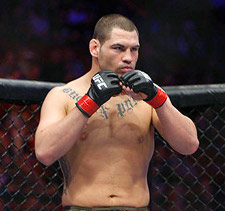 This undefeated fighter is ranked behind two of the greatest MMA fighters, but will have a chance to move up the list in the near future. Cain Velasquez (8-0) is a fighter on the rise, who, in the past has used his fists to pummel the opposition.
Of his eight career victories, 7 have been by TKO or KO, proving he packs a powerful punch. The 6' 1" 243-pound Velasquez from San Jose, California is associated with the American Kickboxing Academy. As well as his fighting ability, Velasquez is a great wrestler, and knows how to put a fighter on the ground. His last victory was against Antonio Rodrigo Nogueira in February 2010.
He knocked out the Big Nog in the first round with a KO (punches). The up-and-comer gets his chance to prove his skills on October 23 when he gets a shot at the UFC champion Brock Lesnar in a championship match.
2. Fedor Emelianenko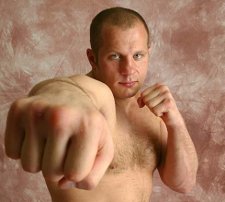 Fedor Emelianenko , ranked #2 on the USA Today/SB Nation list, is a polarizing figure in the world of MMA. Emelianenko competes in the Strikeforce Heavyweight division but most MMA fans want to see him jump to the UFC. Those fans will have to wait and be content to argue what might be.
The big Russian recently suggested that he is content to stay with Strikeforce and is looking for another 4-6 fights. On his current pace, UFC fans might not see him until 2012. In the heavyweight division, Fedor dropped to second but Fighter.com has him ranked as the best MMA fighter in the world. This leads to frustration among UCF fans who want to see him go into the octagon against their favorites.
Nicknamed "The Emperor," Emelianenko is a winner with a 32-2 all-time record. At 6'0" 233 pounds, he is not the biggest fighter in the MMA circuit but he is perhaps the best technical fighter around. Of his 32 victories, 15 have come via submission while 10 others were won by TKO. The man can punch, and kick, and drive fighters into the ground with submission holds. By heavyweight standards, though, he is light and questions arise over whether his punch could take down a guy like Lesner.
Most recently, Emelianenko lost to Fabricio in a Strikeforce bout about six weeks ago on June 26. He lost in a submission hold, a triangle choke took him down, in a match that lasted one hour and nine minutes. Emelianenko is in his mid-30's and you have to wonder how long it will be before he breaks down. UFC fans are hoping he lasts long enough to see how he stacks up against their brand of competition.
1. Brock Lesnar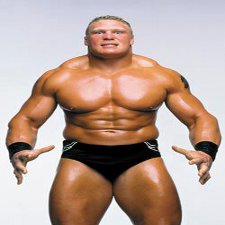 The #1 fighter in the world, according to the USA Today/SB Nation consensus MMA rankings, is Brock Lesnar. Lesnar entered MMA competition as a novelty, a three-time WWE champion, and was seen by many as a publicity stunt by a league looking for some fanfare. Lesnar, though, is athletic and tough, and now has forged a 4-1 record in MMA. The 6' 2" 285-pound fighter won the 2000 NCAA heavyweight wrestling championship and, in 2004, had a brief try-out in the NFL.
Lesnar joined MMA in 2007 and soon foes discovered his act was more than just show and bravado. Though he lost his first match to Frank Mir, Lesnar has been undefeated ever since.
In November 2008, he won the UFC heavyweight title against Randy Couture in a TKO and then defended his title in a rematch against Mir. He unified the heavyweight crown with a victory over the #5 fighter on this list, Shane Carwin, in July.
MMA promoters cannot wait to get Lesnar back into the octagon as he is a huge PPV draw, a charismatic figure who draws media and fan attention to the sport. Lesnar's style has been described as "freestyle wrestling" with a combination of strikes, heavy punches, and crippling submission holds. He'll get another chance at defending his belt in October against up-and-comer Cain Velasquez.
So, there is the heavyweight list, from #10 to #1. Is your favorite fighter not on the list? Well, too bad, he'll have to get better to crack these rankings. He'll get his chance soon, as another poll will be produced next month.
Additional Reading on SteroidsLive: