NFL Week 4 Predictions and Fantasy Start'em/Sit'em
Couch Potato Blitz
Welcome back to the "CPB"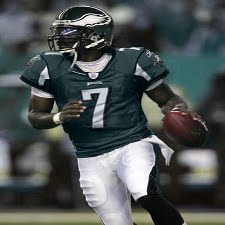 Quarterbacks
The most anticipated game of the weekend has the old dog Donovan McNabb returning to Philadelphia to play his former team led by the new top dog, Michael Vick. The same way Brett Favre stuck it to Green Bay last year in his return, I expect McNabb to do the same in Philly. If you got'em, start'em because he is going to put on a show.
I call him the "Sideline Snacker," but you know him as Mark Sanchez. The Jets are at Buffalo this weekend and he has been going to different targets more than the average soccer mom.
If the player's hairline had anything to do with success in the NFL I would tell you to sit Matt Hasselbeck. It doesn't though, and he gets the Rams in a must win divisional game.
Running Backs
Have you been on the fence about starting LaDainian Tomlinson this year? I wouldn't be surprised this week if he got stopped by airport security and questioned if he has a weapon of mass destruction headed for Buffalo.
With Steven Jackson nursing a sore man region and possibly limited with a strained groin, you might want to grab back-up Kenneth Darby. Make Darby a game time decision after the Jackson injury is updated.
Wide Receivers
Greg Jennings has had a couple of weeks that fantasy owners would love to forget. However, you know what makes you feel better as a NFL WR — a big bowl of the Detroit Lions.
Last week Anquan Boldin visited the end zone three times against Cleveland – people don't even visit their grandma in the hospital that much. Make sure to check Sunday morning if Terrell Owens is active and if he is, I guarantee one douche-bag touchdown celebration.
Fantasy Duds – Sit'em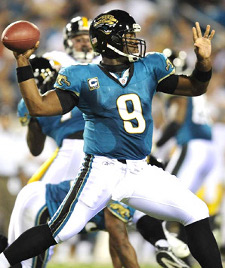 Quarterbacks
Besides the fact that your fantasy team is probably in last place if you have David Garrard, it's even worse to start him against the Colts pass rush. Also, they are going to try and get Maurice Jones-Drew going this weekend.
Last week I told you to start Joe Flacco after two very disappointing weeks and he came through. This week clear some room on your bench because you want no part of him with the Ravens playing the Steelers at home.
Running Backs
Have you ever heard of Nam flashbacks? Well, Rashard Mendenhall has Ray flashbacks from his rookie year when Ray Lewis ended his season by breaking his shoulder. I have a few simple rules in life: 1) I don't talk about fight club and 2) I don't start running backs against proven defenses.
The only thing more inconsistent than Colts running backs are dollar store pregnancy tests. Not only is Joseph Addai playing the lone bright spot of the Jaguars, their run defense, he is also questionable with a knee injury.
Wide Receivers
The Chargers defense has only given up one touchdown to WRs in three games. If Kurt Warner wasn't "Dancing with the Stars," I probably wouldn't tell you to think about benching Larry Fitzgerald.
Last week the Jets pass defense was torched by Chad Henne – sorry if you benched him on my recommendation. This week I expect them to beat up on Ryan Fitzpatrick leaving my favorite fantasy dud Lee Evans a horrible start on Sunday.
Week 4 Pick'em – One Line Why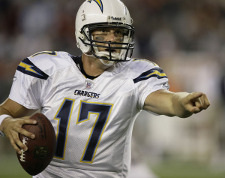 The team in bold is the predicted winner.
Byes: Minnesota Vikings, Kansas City Chiefs, Tampa Bay Buccaneers, and Dallas Cowboys
San Francisco 49ers @ Atlanta Falcons – The only thing worse on the road that is the Carrot Top comedy act, leaving the Falcons with a big win.
New York Jets @ Buffalo Bills – Anyone who thinks the Bills will win this weekend probably still believes in Santa Claus, healthy fast-food menus, and that bumping into a breast constitutes as getting to second base.
Cincinnati Bengals @ Cleveland Browns – I don't know what Brown can do for you, but I do know that the Browns can't win this game.
Detroit Lions @ Green Bay Packers – The one thing more automatic than the Lions losing on the road is Lindsay Lohan failing a drug test.
Denver Broncos @ Tennessee Titans – Vince Young and Chris Johnson should look like they are compiling footage for a Nike commercial.
Seattle Seahawks @ St. Louis Rams – The Rams will make this a close contest and critics will continue to pat Sam Bradford on the back for losing close games.
Carolina Panthers @ New Orleans Saints – DeAngelo Williams may cut up the Saints defense like a back message from Edward Scissor Hands, but Jimmy Clausen/Matt Moore will bring things back to reality. Suicide pool pick of the week.
Baltimore Ravens @ Pittsburgh Steelers – Start no offensive players on your fantasy team in this game because it could be the first 5-2 victory the NFL has ever had.
Indianapolis Colts @ Jacksonville Jaguars – The only question in this game is whether the Colts will have more points or Peyton Manning audibles.
Houston Texans @ Oakland Raiders – The Texans will bounce back this week against a team that has been trying to rebound since they stopped syndicating Walker Texas Ranger.
Arizona Cardinals @ San Diego Chargers – I have to go with the Chargers, but this game could leave more people disappointed than all the frat boys who thought Axe deodorant would get them laid.
Washington Redskins @ Philadelphia Eagles – McNabb will be serving up revenge pie to the Eagles organization and I think we can all agree that the last thing Andy Reid needs is a slice of pie.
Chicago Bears @ New York Giants – The Giants are about to disappear like the career of Haley Joel Osment – I can't see dead people, but I can see people getting fired.
New England Patriots @ Miami Dolphins – This game features two great coaches and should be a good game, but I had to choose "The Hoodie" over the "To Catch a Predator" mustache of Tony Sparano.
Please come back next week for more predictions, fantasy, and fun in the Couch Potato Blitz.
Additional Reading at SteroidsLive
Related Articles on SteroidsLive: