NFL Week 12 Picks and Predictions
Couch Potato Blitz: Week 12 Predictions
Week 12 of the NFL season brings us poor Thanksgiving day games and an even worse Monday night match-up. Some where sandwiched in between that is some pretty good football.
In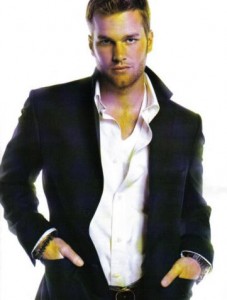 New England Patriots @ Detroit Lions – The Lions have improved, but I think it's safe to say that people on the west coast can go ahead and sleep-in Thanksgiving morning. I'm not sure what is more shocking, the fact that the Pats keep winning or how Tom Brady is starting to resemble a European adult film star.
The Patriots are coming off of a very impressive win over the Colts. The Lions are looking to bounce back from their loss to the re-energized Cowboys. I can't pick the Lions because their fans turkey wouldn't taste the same without the flavor of defeat in their mouths.
New Orleans Saints @ Dallas Cowboys – When the schedule makers planned this game, they were thinking "NFC championship game preview" – little did they know, but "expectation" is a bad color on Wade Phillips. Dallas has actually played better under interim head coach Jason Garrett.
The Saints are starting to click again on offense. You know the New Orleans offense is running good when Drew Brees is spreading the ball like a cold in a kindergarten classroom. I really want to pick the Cowboys, but the Saints have something to play for other than their jobs for next season.
Cincinnati Bengals @ New York Jets – Finally, for those of us with NFL Network, this will be a great game to fall asleep to. I believe the Jets are going to play a complete football game – this is a concept that is foreign to the Bengals.
I keep hearing people refer to the Jets as lucky. Someone ask Cincinnati if they would like to be lucky as well. The Jets will dominate and then everyone will say it was because they played the Bengals. Maybe so, but they'll be 9-2 with 5-games to play.
Green Bay Packers @ Atlanta Falcons – This could be one of the best games of the weekend. Matt Ryan doesn't lose at home and Aaron Rogers hasn't won a meaningful game in his short career – this game could decide home field advantage in a potential NFC Championship game.
I like Dom Cappers 3-4 defense to use Clay Matthews on a lot creative blitzes to cause some crucial turnovers. This game will have a playoff atmosphere and I like the Packers to edge out the victory late in Atlanta.
Pittsburgh Steelers @ Buffalo Bills – The Bills showed off their high powered offense last week against the pathetic Bengals. Ryan Fitzpatrick may earn himself a permanent starting job in this league with his play. Steve Johnson is emerging at WR and Fred Jackson is playing like a hungry veteran unwilling to relinquish his job to the rookie, C.J. Spiller.
That is all well and good for Buffalo fans, but the Steelers have a bigger goal, a better coaching staff, and much more talent on both sides of the ball. Rashard Mendenhall is due for a big game. My only question is will James Harrison avoid a helmet-to-helmet hit?
Carolina Panthers @ Cleveland Browns – I'm not sure I need to say much more than the Panthers have Brian St. Pierre at QB, and injuries to DeAngelo Williams and Jonathan Stewart. Counter that with the Browns playing some of the best football they've played in years, and this is an easy Cleveland victory – I never imagined writing something like that.
If the Browns would quit playing two-hand-touch at the end of games they would have a winning record. The Panthers are so beat up they might actually agree to a game of two-hand-touch. Colt McCoy is going to make the Panthers organization regret passing on him in the 2010 draft.
Jacksonville Jaguars @ New York Giants –This is a tough one to pick. They both have so much to play for with winning the division seeming like the only way into the post-season. The Jaguars have won their last two games on a hail-mary and a 70-yard scamper by Maurice Jones-Drew in the final minute.
The Giants have turned into the turnover machine. Two weeks ago everyone was crowning them the best team in the NFC – not me though. I think Eli Manning will clean up his QB play and out play David Garrard, who unfortunately has to deal with a tremendous Giants pass-rush.
Minnesota Vikings @ Washington Redskins – I have a feeling that the Vikings are going to come out to prove Brad Childress is the reason they were losing games. People want to compare it to the Cowboys situation, but it is different because they didn't hate Phillips. Brett Favre will play better with Sidney Rice having another full week back and Leslie Frazier will demand they run the ball more on offense.
The Redskins have issues on offense and defense that teams fail to expose. Donovan McNabb may be younger than Favre, but their bodies are the same age. The Vikings rally for this one and take underlying shots at Childress in their post-game press conference.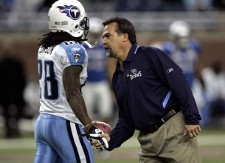 Tennessee Titans @ Houston Texans – The smart pick is probably the Texans, but I can't take a team allergic to winning. There are only so many ways to lose games in the final minutes and somehow the Texans embrace all of them. The Houston defense is a joke and the offense hasn't really clicked on all cylinders lately.
Jeff Fisher wants to prove that the QB position in Tennessee is replaceable if you don't respect the mustache. They have to incorporate Randy Moss against a defense that can't stop a Pop Warner passing attack. I also like a big Sunday from Chris Johnson.
Kansas City Chiefs @ Seattle Seahawks – The Seahawks should win this game. There is a big difference between "should" and "will." Seattle has over achieved all season and every time they have a chance to prove that statement wrong they don't.
Kansas City can see an opportunity to win this division and I don't think they will let it slip away – at least not for this weekend. Matt Cassel wants to make good on the almost, maybe guarantee made by Dwayne Bowe after Sundays win over the Cardinals.
Miami Dolphins @ Oakland Raiders – Last week I bet on Tyler Thigpen. I won't make that mistake twice. Unless Chad Henne mans-up for this game, I don't think the Dolphins have shot traveling west. The Raiders need to establish the run early because their average passing attack relies on it.
Darren McFadden and Michael Bush should be able to get some yards rushing and that will open the door for Bruce Gradkowski or Jason Campbell – which ever one Al Davis forces Tom Cable to start.
St. Louis Rams @ Denver Broncos – The Broncos offense seems to be up and down more that waves in the ocean. They scored on their opening drive against the Chargers then didn't score again for three quarters. I like Kyle Orton at home to have a spectacular game.
I am only discounting the Rams from this game because I believe they have a young team that will struggle adjusting to the altitude of Mile High Stadium. I see a fairly high scoring game with neither defensive coordinator preparing Christmas cards for their players.
Philadelphia Eagles @ Chicago Bears – I am not a believer in the Bears offense. I am not a believer in the Eagles defense. Something has to give and I never give my confidence to Jay Cutler. Asente Samuel likes to sit on routes of QBs like Cutler and I'm sure he will have at least one interception.
The Chicago defense is fast after the ball and does well against the run, but how often do they pursue a runner who can throw it 50-yards with the flick of a wrist. I like the speed of Philadelphia's offense over the speed of their defense. Michael Vick will take some hits, but have another outstanding game.
Tampa Bay Buccaneers @ Baltimore Ravens – If you would have told me that I would have been this excited about so many Buccaneers' games, I would have politely called you a moron. This game is going to be great! Two young QBs, Joe Flacco and Josh Freeman, and two aggressive defenses, but one has experience and the other is lead by youth and athleticism.
It should be a close game, but in the end I think Flacco, Ray Rice, and Anquan Boldin will make the necessary plays to win.
San Diego Chargers @ Indianapolis Colts – I think we could see the first game where both QBs throw for 500-yards a piece with a final score totaling 100-points. Seriously though, this is going to be an entertaining passing marathon to watch. Philip Rivers has a chance to break the all time passing record and Peyton Manning, who calls runs in the huddle only to do one of his crazy audibles at the line.
All defensive backs in this game will have a solid case to sue for mental damages with the passing parade the QBs will put on. I think it will come down to a last possession again for the Colts and I don't expect Manning to throw another game ending interception.
San Francisco 49ers @ Arizona Cardinals – I think the NFL should do us all a favor and blackout this game – die hard fans can listen on the radio. Two 3-7 teams still have a shot at winning the division. The NFC West is pathetic – only one team at .500.
I will watch this game because I am a fan of Troy Smith. However, for the average football fan — what's really in it for them? Here is a list of ideas: 1) fantasy football 2) bet with the office idiot 3) turn it into a drinking game – if drinking get home responsibly. In the end I believe the 49ers defense will force more mistakes from the Cardinals offense.
Thank you for stopping by the "CPB" for your picks and predictions. Don't forget to check out the "CPB" fantasy football column for ideas on who to start and sit for week 12.
Additional Reading at SteroidsLive
Related Articles on SteroidsLive: