Help! The NFL's Kidnapped My Boyfriend!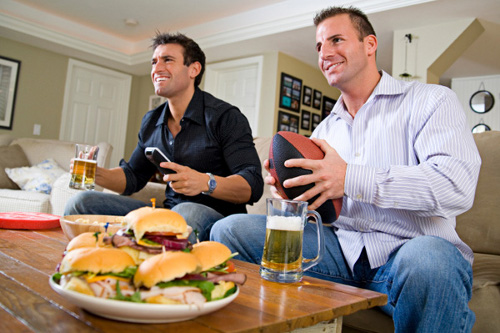 A certain mania sweeps over a lot of men at the end of August and lasts until the beginning of February. This mania is known formally as the NFL. Monday Night Football, beer, shouting, pre-game shows, Fantasy Football, Reggie Bush, Brett Favre, Sunday football all-day long — the sport can literally make it appear as though the man in your life has been glued to the couch.
If you're a woman who enjoys watching the sport then this time of year doesn't affect you as much because you're right there on the sidelines. But if you fall into the other category where you're not really into the sport and mostly catch one game per year aka The Super Bowl, then this article is for you.
I'm here to help you learn how you can ease the pain from your significant other's disappearance.
Be Your Own MVP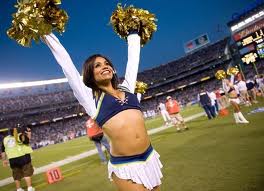 Once you've expressed concern to let him know how you feel and that you're willing to compromise with his schedule, try to think of things you can do on your own while he's watching the game. Football might be his version of "alone time" — where he can engage in something he really likes to do. It isn't that he doesn't want you around, he just probably wants to watch the game in peace.
Being your own MVP means that while he's hogging the TV and practically unavailable for three hours, this is also your chance to get some alone time. Schedule a massage, go shopping, get a manicure or pedicure — you could probably fit a few of those things into the three-hour block.
If getting pampered isn't your thing, then get caught up on the book you're reading at a coffee shop, visit a friend, enjoy the sunset or catch a movie. The coolest thing about seeing a movie solo is that you don't have to fight over what movie you're going to watch!
If you want to watch that new chick flick versus the zombie horror movie — there's no one stopping you. When you finally come home, the game will be over, you will be relaxed and you both can resume spending quality time together.
Huddle Time
Another way to ease the pain is to invite a group of friends over. This way people who want to watch the game can be in one room and whoever doesn't can hang out in another room playing games, watching a movie, chatting, and other fun activities.
Throw some meat on the grill — add baked beans and potato salad — and you've got a barbecue. Not only does your man not have to worry about being fed, but you've turned the event into something you can both share.
You can also meet your friends at a bar or restaurant. During football season, a lot of restaurants or bars will offer specials or happy hour discounts. If you're married and have kids, Dave & Busters is great place where the entire family can have fun. Dad can watch football with his buddies, mom can have social time with friends and the kids can play games and win prizes. This is a win-win situation for everyone.
Double Vision and Instant Replay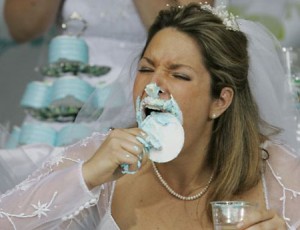 According to a census by Now that Fantasy Football has swept the nation, it is not uncommon to a see a man watch a game with one hand on the remote and the other hand on the computer. Once upon a time he only watched the ones that his favorite teams were playing. Now he watches more games to keep tabs on the individual players that make up his Fantasy Football team. I admit, the competition intrigues me and if you're also intrigued, another suggestion is to join him in the Fantasy Football competition.
Not only will you gain more knowledge about his beloved sport but this will give him a chance to educate you on what players to choose. Every week you'll both be glued to the TV and the computer keeping tallies on how your teammates are performing. If you have beginner's luck, you might even win the pot at the end of the season.
Another plus is you get to spend time doing something he enjoys and he'll appreciate the effort you're making to become more involved. Who knows, maybe the next time you ask him if he's Team Jacob or Team Edward, he'll have an answer because he'll be more willing to watch the Twilight Saga movies with you.
Touchdown
Football season is a time for people to come together to watch their favorite players carry their team to the top. It is also a time where some men suddenly become connected to the couch and take over the television. It doesn't have to be that difficult of a time if you both compromise and work hard to reach an understanding.
You can either do your own thing while he's watching the game or find ways to become more involved. If both of your needs are being considered, then everyone wins.
Additional Reading on SteroidsLive:
Related Articles on SteroidsLive: