Drop the Puck: It's Time to Start Thinking Fantasy Hockey (Part III) – The Goalies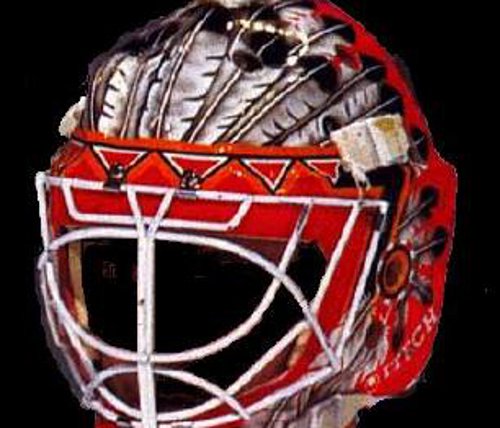 With the National Hockey League season just a week away, if you haven't completed a fantasy hockey draft, you will be doing so in the next few days. This article is part III of a three-part series exploring how you can get the most out of your fantasy draft, and dominate your league (well, no guarantees there, after all , the NHL hockey season is 82 games).
We have already looked at forwards and centers you'll want to target in early rounds as well as "young guns," players who are on the verge of break-out seasons.
Now, in this third part of Drop the Puck, we will take a look at potentially the most important position you'll draft. Typically, your fantasy hockey roster will include, among 17 slots, 6 forwards, 4 defensemen, 2 bench players, and just 2 goalies.
Goalie is arguably the most crucial position on the ice, the last line of defense, and the difference, for many teams, between the getting into the playoffs and getting an early start on the links. To find the right fantasy goalie, you'll need to find a guy who can get you between 35 and 40 wins, has a sterling goals-against-average (GAA), a high save percentage, and can string together a few shutouts during the year.
Of course, your goalie will need a winning team and a strong defense around him which means the player you target will be a rare breed, indeed. Here is a short list you must put high on your draft board:
Blue Chippers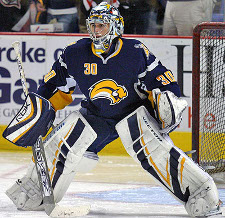 Ryan Miller, Buffalo Sabres
If you are looking for a franchise goalie in the prime of his career, Ryan Miller is your man. He is a first round pick and should be the first goalie you pick. Miller was a workhorse last season with 68 games started and 4,047 minutes played.
He was also outstanding in goal with a 2.22 GAA, .929 save percentage, and five shutouts. He won 41 games for a decent Buffalo Sabres team, but Buffalo has lost some key players on defense in the off-season which could hurt Miller's overall numbers. Yet, despite any possible defensive deficiencies, Miller should be your man as the first pick in goal.
Martin Brodeur, New Jersey Devils
This is the year legendary goalie Martin Brodeur will break down, right? No. Says here, Brodeur keeps on ticking in his 18th season. Other than 2008-2009, Brodeur has played over 70 games four times and has earned between 43 and 48 victories.
His save percentage has never been less than .911 and has posted 12, 11, and, last season, 9 shutouts. Is there a chance Brodeur will break down? Definitely, that could happen but, last season, he posted 45 wins, a 2.24 GAA, and a .916 save percentage in 76 games played. Even in his 18th season, the future Hall of Fame goaltender is a prime choice for your team.
Roberto Luongo, Vancouver Canucks
Luongo, the 2010 star of the gold-medal winning Canadian Olympic hockey team, looks to follow-up his success of a year ago to a championship run with his NHL team, the Vancouver Canucks.
In his tenth year, Luongo posted 40 wins, second best of his career, with a .913 save percentage, 2.57 GAA, and four shutouts. The Canucks are poised to be a force in the Western Conference and should at least equal his win total. He always has solid numbers in the other categories and has been a real work horse since entering the league.
Luongo is one the short list of elite goalies and it would not be surprising if, by the end of the year, he isn't rated as the best.
Ilya Bryzgalov, Phoenix Coyotes
After toiling on the bench with the Anaheim Mighty Ducks, Bryzgalov came into his own last season, posting career highs in games played with 69, wins with 42, shutouts with 8, and GAA at 2.29.
His GAA was the most striking improvement in his game, lowering from 2.98 from the previous year and moving Bryzgalov into the conversation with the NHL's elite goaltenders.
Bryzgalov can be streaky but, when he is hot, he is a "must-play" and the Coyotes should still be in the top half of the Western Conference, meaning he has a good chance to getting the wins that you'll need an elite fantasy goalie.
Risk, Reward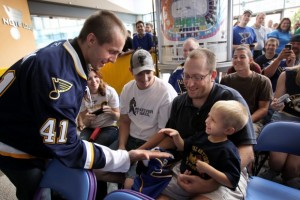 Jaroslav Halak, St. Louis Blues
Looking for a homerun? Jaroslav Halak could be your guy. Halak became a hero in the 2010 NHL playoffs when he helped the Montreal Canadians pull-off playoff upsets over the higher-seeded Washington Capitals and Pittsburgh Penguins with a .923 save percentage and a 2.55 GAA.
Halak moved on from the Canadians to a new home in St. Louis where he should carry much of the load. The Blues have a strong blue line and that should only help Halak, who tends to be another streaky goaltender. Just ask Alex Ovechkin and Sid Crosby about how effective he can be when he is on. If you are looking for a break-out star, this is the goalie.
Marc-Andre Fleury, Pittsburgh Penguins
With a Stanley Cup contender like the Penguins, Fleury is certain to compile the wins and might reach 40 wins, a figure he reached in 2006-2007 and nearly reached in 2009-2010. By all accounts, Fleury had a bad year last season. He posted only one shut-out and ranked near the bottom of the league in save percentage and GAA.
The Pens, though, in the off-season, made a commitment to defense, acquiring some muscle on the blue line and at forward, and Fleury is set for a rebound year. Most fantasy pundits consider Fleury a solid #2 goalie, but, if you pick-up this 26-year old goalie just reaching his prime, you might hit a homerun or strike out swinging.
Semyon Varlamov, Washington Capitals
After a sterling run in the 2008-2009 Stanley Cup playoffs, Varlamov's rise to the big time was derailed by a hernia injury and he ended-up playing in just 23 games.
However, if healthy, he has the potential to reach 35-40 wins, a 2.4 to 2.5 GAA, and double-digit shutouts. Of course, Varlamov could get injured again and your best laid plans will be scuttled
Honorable Mention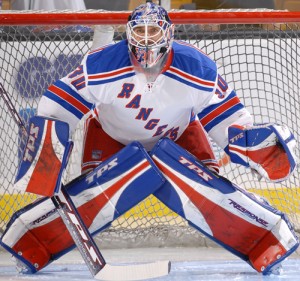 Other top goalies stuck on mediocre teams include Henrik Lundqvist of the New York Rangers, Tomas Vokoun of the Florida Panthers, and Pekka Rinne of the Nashville Predators. You'll also get a lot of mileage from Jimmy Howard of the Detroit Redwings and Tuukka Rask of the Boston Bruins, young goaltenders who have beaten-out established stars in their respective teams.
And then there is the quandary of when to draft the Stanley Cup Finals starting goalies – Antti Niemi and Michael Leighton. Of course, Niemi won the Cup but was let loose by the Blackhawks and now is in goal for the San Jose Sharks. The Sharks will be sure to get their share of wins, but there is a question of whether Niemi will even start as he is in competition with Antero Niittymaki.
As for Leighton, his solid play down the stretch got the Philadelphia Flyers into the playoffs, but he blew-up there and the game-winning goal he allowed will not go down in the hockey annals as the hardest shot to stop ever.
So, there you have it, the top studs you should draft, the young guns on the rise, and the goaltender who will make your team unbeatable.
Best of luck, hockey "poolers."
Additional Reading at SteroidsLive