NFL Coaches on the Hot Seat: Childress, Lewis, and More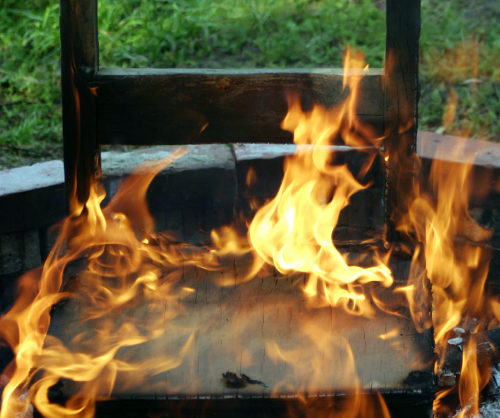 Seemingly every year NFL head coaches are fired and hired. Before being axed, the term "hot seat" is often thrown around when describing their job status.
The Dallas Cowboys' head coach, Wade Phillips, was under heavy speculation after getting off to a poor start (1-7). On Monday, Jerry Jones made it official, making Phillips the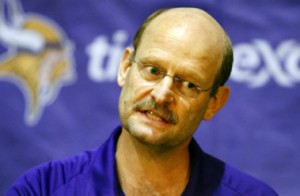 After trading for Randy Moss only to cut him four weeks later, Vikings owner Zygi Wilf was contemplating whether or not to fire Brad Childress, a.k.a. Chilly. Many Minnesota fans came out in droves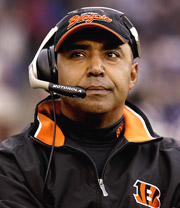 Some people had the Bengals in the Super Bowl after winning the division last season. With the loss on Monday night they fell to 2-6 and all but out of the playoffs. In 7 ½ seasons Marvin Lewis is three-games under .500.
There is no question that Cincinnati has had talent and currently has a very talented team. The Bengals have gained a reputation of taking on troubled players which many people attribute to the struggles over Lewis tenure.
Three losing seasons in four years makes it pretty evident that Lewis has one foot in the parking lot. The question is, who will take over a job with so many big personalities?
Far From Walsh
To say that 49ers head coach Mike Singletary uses conventional methods would be akin to saying Lady Gaga's wardrobe is conservative. This is a coach who dropped his pants during a halftime speech in an attempt to make a point.
Singletary took over for Mike Nolan in 2008 and retained the job by going 5-4. He followed that season with an 8-8 record and many people had them winning the NFC West this year with the retirement of Kurt Warner from Arizona.
The owner seems to still have faith in the 49ers turning things around; he was quoted as saying they would make the playoffs this year. With a 2-6 record at the halfway point of the season Singletary could be coaching for his job in the second half of this season. The 49ers have fallen from the days of Bill Walsh.
Dear John
After eight up-and-down seasons, John Fox, is just having a downright ugly season. The Panthers sit at 1-7 and no sign of getting things back on track this year. In the past it was about good defense and a superior running game – both have been non-existent this season.
I have heard rumors that Cowher would be interested in this job since he has ties to the Carolina area. That doesn't help the case for Fox to keep his job. In 8 ½ seasons, Fox has compiled a 72-64 record.
Jobs on Notice in the Second Half
Un-Bear-Able
Currently I wouldn't say Bears head coach Lovie Smith is on the hot seat, but things could turn quickly in the second half. The Bears are an unimpressive 5-3 by squeaking out wins over the Lions in week 1 and Bills in week 8.
They acquired Jay Cutler last season thinking he would solve the lack of QB play. The first season was a failed experiment with Cutler leading the league in INTs. This season they brought in Mike Martz as offensive coordinator which is proving to be a work in progress. The offensive line hasn't helped by giving up sacks in bunches
The Bears haven't made the playoffs since they went to the Super Bowl in 2006. A second half collapse could have the Bears going in a different direction next season.
Job Could Get Jacked
The Jaguars have suffered through two consecutive losing seasons under the head coaching of Jack Del Rio. This season they are 4-4 and have a slight shot at the division with the Titans and Colts only a game ahead.
Del Rio is two games over .500 in 7 ½ seasons at 61-59. He has never led Jacksonville to a division title – tough to do in a division with Peyton Manning. The Jaguars have a tough schedule for the remainder of the season and will probably lead to Del Rio seeking employment elsewhere.
Please be sure to come back every weekend for NFL picks and predictions. Also every Friday get your fantasy football advice here in start'em and sit'em.
Additional Reading on SteroidsLive:
Related Articles on SteroidsLive: