Anderson Silva Talks Weight Class Adjustments, 185 lbs vs 205 lbs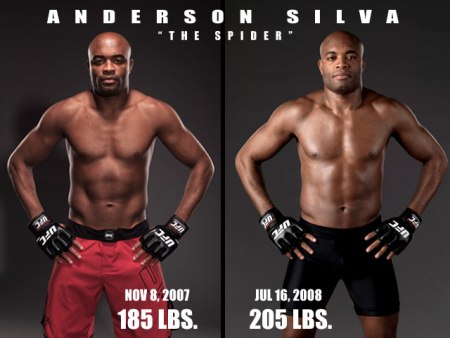 At UFC 101, Anderson Silva will be gong up a weight class from where he reigns as champion at 185 lbs to fight Forrest Griffin at 205 lbs.  Many people think that it must be very hard to move up in weight and fight bigger men.  The raw size and strength difference is an obvious advantage, right?  Anderson Silva doesn't see it that way.  In fact it seems that cutting weight is that hard part for him, not the size or strength difference of his opponents. Here is what Silva had to say about his upcoming weight class jump:
"I'm used to training against bigger guys," said Silva. A lot of people talk about moving up and down in weight," he said. "For me, it is a little difficult to cut weight to make 185, but I walk around at 215 to 220 pounds, so for me to cut to 185, I do have to eat a little bit of a different diet, and do a little bit of a different type of cardio workout to get my weight down. For 205, I just eat differently, and I don't have to cut as much weight. But both 185 and 205 work fine for me."
Quote via MMA Weekley
Need some tips on bulking up for your next fight?  Check out this article.